S&A + USGLC Give Back to Community at DC Central Kitchen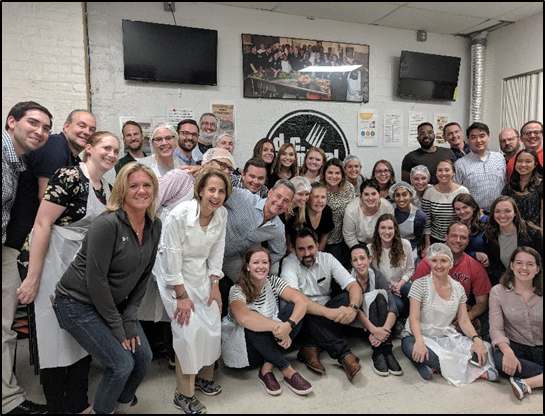 I cried. Well, I was chopping onions.
It was Give Back Day. One of my favorites that the Schrayer & Associates team, along with our colleagues from the U.S. Global Leadership Coalition, make a point to do at least once a year. This year, we were off to the amazing DC Central Kitchen – a true jewel right in our own backyard.
Each year, a group of our colleagues picks a local charity our entire staff to volunteer for a day — a time for the S&A and USGLC to engage in direct community service, volunteering with our DC neighbors to give back in some small way. The truth is, each year, we enrich our own lives so much more.
This year's outing was no exception, due in no small part to the extraordinary team at DC Central Kitchen that patiently guided and supervised us – teaching us proper knife skills and hand washing techniques. We skinned potatoes, prepared vats of baked beans and sliced all sorts of produce, as we learned about how many of those are less fortunate right in our own city.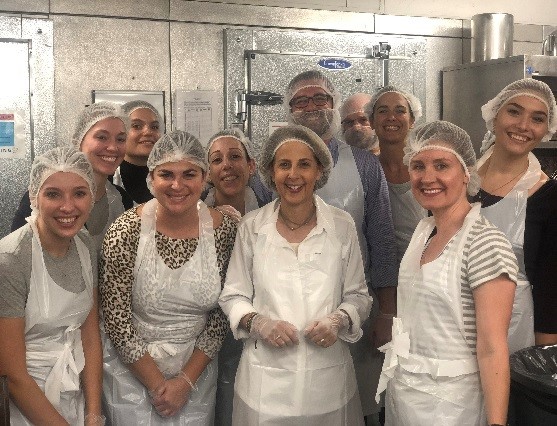 DC Central Kitchen is a truly remarkable organization. In addition to preparing 3.2 million meals for local shelters, nonprofits and DC schools this year, DC Central Kitchen conducts culinary job training – with 104 graduate this year alone and an 86% job placement rate. In addition, they calculated last year's social return on investment to be $7.05 million as they kept food out of the trash and used it to feed our neighbors. The real power of DC Central Kitchen is providing a second chance to hundreds of our fellow citizens who are living productive, independent lives.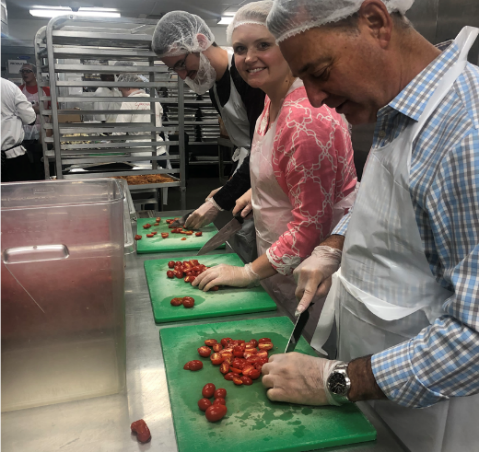 Thanking the DC Central Kitchen team at the end of the day, Liz Schrayer said, "I know I speak for all of us at USGLC and Schrayer & Associates when I say how inspired we are by DC Central Kitchen – we can here to help, but it is you that has enriched each of our lives by showing us how to lift others up — with grace and dignity. Everyone in Washington, D.C. should spend a day here so they too can be proud of the world of difference you are making for our community."
A huge thank you to DC Central Kitchen for hosting us and for making us feel so welcome! We look forward to returning soon to lend our helping hands.
You can share this story by using your social accounts: