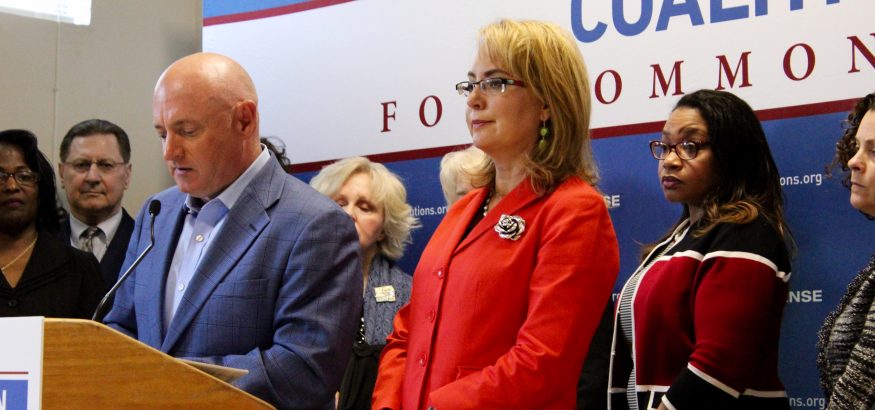 AMERICANS FOR RESPONSIBLE SOLUTIONS
CHALLENGE:
Following the tragedy at Sandy Hook in 2012, former Congresswoman Gabrielle Giffords and her husband, retired astronaut and Navy Captain Mark Kelly, founded Americans for Responsible Solutions (ARS) with a singular goal of advancing common sense solutions to our nation's gun violence epidemic. Recognizing the need for a broader-based constituency in support of their efforts, ARS turned to Schrayer & Associates to help them build a national coalition of Americans who support the Second Amendment rights of law-abiding citizens, but also believe gun safety reform will save lives and reduce violence.
APPROACH:
Schrayer & Associates strategized with ARS's leadership team on the creation of "Common Sense Coalitions" focused on key national affinity groups and coalitions in targeted states.  We worked closely with the ARS team to recruit influential local elected officials, law enforcement officers, business leaders, prominent women and gun owners, as well as highly respected military veterans whose powerful voices added to the growing drumbeat for common sense solutions. These efforts resulted in the launch of three national Coalitions (Veterans, Women and Law Enforcement), the creation of 7 influential state networks comprised of hundreds of prominent elected officials and civic leaders, as well as thousands of veterans, corporate leaders, and women joining online from across the country.
RESULTS:
Launched the Veterans Coalition for Common Sense Advisory Committee with Navy combat veteran and now-Senator Mark Kelly and such leaders as Admiral Thad Allen, General George Casey, General Stanley A. McChrystal, and General David Petraeus, as well as younger veterans of Iraq and Afghanistan. General McChrystal explained why veteran voices are so important to this movement in a New York Times op-ed.
Established a Women's Coalition for Common Sense with Congresswoman Gabrielle Giffords and women leaders from across industries and sectors including Madeleine Albright, Connie Morella, Christine Todd Whitman, and Connie Britton.
Organized State Coalitions for Common Sense in Delaware, Minnesota, New Hampshire, Oregon, Virginia, New Mexico and Gabby's home state of Arizona, with a new coalition about to be launched in Ohio.
Launched the Law Enforcement Coalition for Common Sense, a nationwide group that includes prominent law enforcement officials, such as former Philadelphia and D.C. Police Commissioner Charles Ramsey, who share a commitment to commonsense gun safety laws.