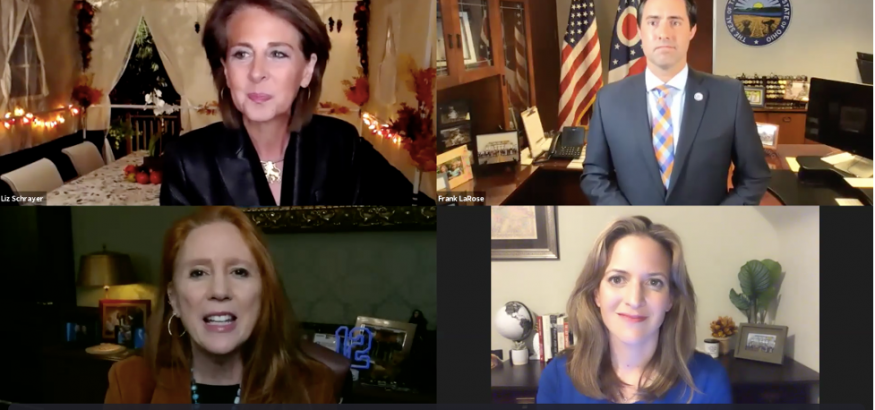 Jewish Federations of North America
Challenge:
When the pandemic began spreading across the country in early 2020 and most offices sent their employees home, Schrayer & Associates recognized that many organizations would be seeking innovative ways to connect with their constituencies. With in-person events no longer an option – at least for the foreseeable future – pivoting to a virtual world became a necessity.
Based on prior experience working with the Jewish Federations of North America, S&A approached the leadership of JFNA's National Women's Philanthropy with an idea for a virtual speaker series for its most committed donors. These women – from nearly 150 communities around the country – are among the most dynamic Jewish women philanthropists in the world, raising and donating over $200 million to Federation's annual campaign. Acknowledging the need to find alternatives means of engaging these critical donors at a time when ballroom events were no longer feasible, JFNA enthusiastically welcomed the idea. The challenge was to do this in an impactful, meaningful way that left people informed, inspired and connected with one another.
Approach:
S&A believed the key to engaging this nationwide network of thousands of women was not only to create a virtual program on hot topics of the day, but to make sure the conversation was inviting where everyone felt they had a "seat at the table" – without leaving the comfort and safety of their own homes.
S&A did so by designing a four-part speaker series that tackled big issues, but with a twist – drawing on our expansive network of intriguing speakers and introducing these major donors to business, philanthropic, medical, foreign policy, and political experts. Each segment, moderated by high-energy host Liz Schrayer, was carefully curated to shape a story with insightful speakers, video and visual images, and interactive polls to engage the audience.
Sessions ranged from an exploration of the global humanitarian impact of the pandemic with the Executive Director of the World Food Programme and the President of Sesame Workshop to a look behind Israel's early success in combatting COVID with one of the country's leading epidemiologists. But perhaps the most popular session focused on the supply chain issues that impacted every person in the audience. Senior executives – all women – from Procter & Gamble, UPS, and Walmart helped explain why something as simple as getting toilet paper was so difficult in the early days of the pandemic.
Results:
Attracted over 1,000 participants to each session, reaching an audience many times higher than would attend a typical in-person event.
Maintained a strong sense of community among JFNA's women philanthropists, helping to sustain major donors, through bi-weekly sessions featuring other successful and accomplished women.
Provided unique and smart content when people were largely confined to their homes, dealing with daily challenges brought on by the pandemic and struggling to make sense of it all.
Led to a follow-on speaker series months later, building on the overwhelmingly positive response to the initial program.
Established a new type of virtual programming that will continue in the post-pandemic world.